Faithbridge Church said they pulled off the near impossible thanks to the help of a very generous donation by well-known real estate company Sleiman Enterprises.
Senior pastor Paul White said for years, Faithbridge Church had been dealing with mounting financial debt.
"As the proceedings have gone, it finally culminated with the property being foreclosed upon," said White.
Sleiman executive Toney Sleiman had been eyeing the property as a potential location for another church.
Sleiman admitted he was going to ask the church to leave the property, but had a change of heart.
Sleiman Enterprises donated $500,000 that will go to help with the down payment of a new lower interest rate loan.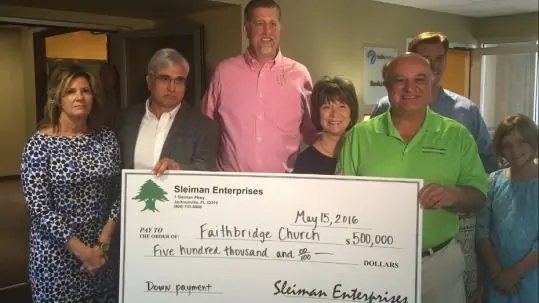 "It's hard when you think about families and nurseries and kids," said Sleiman.
The donation has sent ripple effects not only for the East Arlington church, but also for other ministries it's involved with around the world.
Now that the nearly 800-member church will stay open, Sleiman said he'll be there for the Sunday service for the official celebration.
According to Sleiman, that entire church property is under contract now. One side will remain for the church and the other he plans to develop for a shopping center.
For the full article, click here.