A GRAND OPENING event you don't want to miss!
Join Trifecta Home Furniture as they open the doors to their newest 30,000 sf location in Jacksonville!
From Trifecta Home Furniture's Facebook Event:
Trifecta Home Furniture has four locations in Georgia and several of their clients have been begging us to come to NE Florida, so here we are!
If you haven't heard of us yet please visit our website to familiarize yourself with our business model. Www.trifectahomefurniture.com If you are a past or current client be sure to share this with all your friends in the NE Florida area. Get ready to be wowed by all new available inventory exclusive to TRIFECTA!
This space is HUGE so about 150 people can shop comfortably at a time. We have all the parking and all the staff to make this a fun and seamless event. Come see for yourself how we are "Revolutionizing the way you shop"! Don't like waiting in lines? Neither do we! We will be handing out numbers to hold your spot for entry as early as 90 minutes prior to the sale. Come get your number then go grab a coffee or run an errand and come back when we open the doors and walk right in.
Remember that we are the originators of this concept so we have perfected it into a seamless and fun event. We are thrilled to have such a loyal following and that we draw such a crowd – we thank YOU so much for that!
This Jacksonville Showroom is 30,000 sf and it will be packed full of everything and anything you could want for your home; sofas, chairs, beds, dressers, nightstands, cabinets, dining / console / coffee / end / buffet tables, artwork, ottomans, mirrors, lamps, accessories, etc.
This sale is going to be ONE DAY ONLY for just 4 hours. You do not need an appointment but we do ask that you please RSVP "going" on this event page so we can be properly staffed to serve you.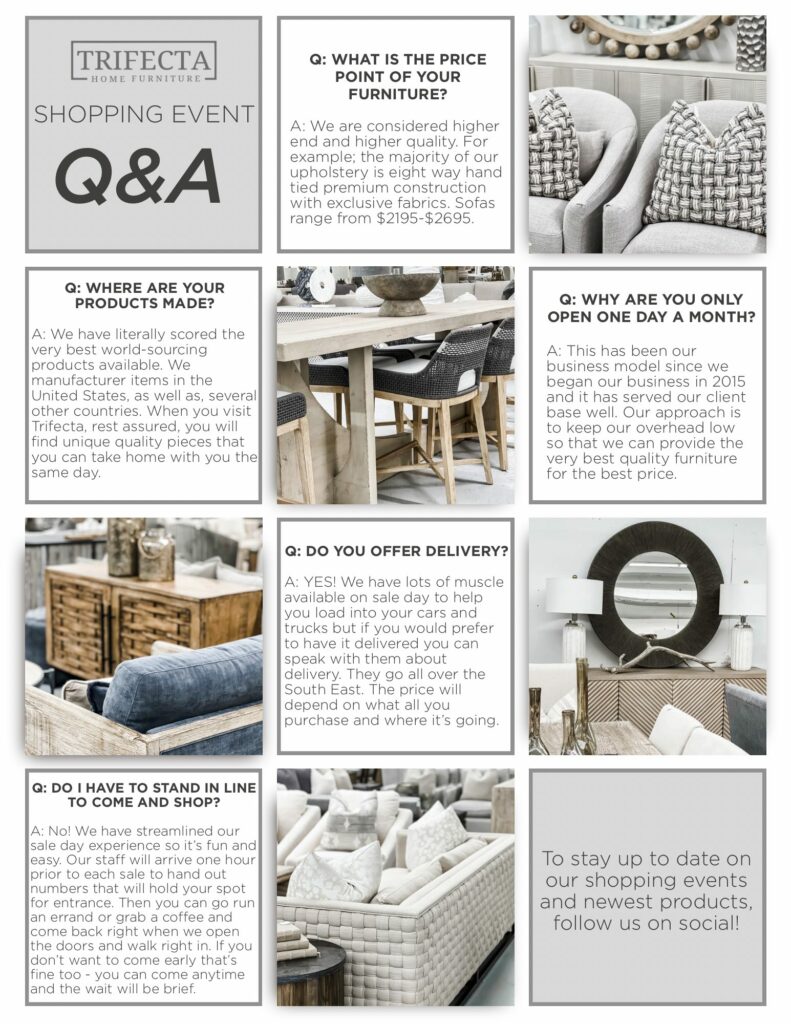 Our furniture is comparable look and quality to higher end retailers and boutiques but we don't have a fancy store OR the high retail prices. 
 We hope you will come check us out for yourself!
Now for the details:
*We need you to RSVP "going" to this event. Please feel free to tag a friend or 10!
*125-150 people will be able to shop at a time
*If your kids are anything like our three boys then they are like bulls in a China shop so please only bring them if it's absolutely necessary.
*All credit cards and cash are accepted (sorry no checks)
* Bring your measurements and your tape measure! We will have designers on staff to assist you with selections free of charge.
*No pets will be permitted, unless you have a service dog.
*You will have the day of the sale and the next morning to arrange for pick up or you can discuss delivery of your items with the moving company there at the sale. We will have muscle there to help you load your items into your vehicles